Professional job candidates in high volume
Build a steady flow of dynamic professionals with Fountain
The world's most sophisticated professional services companies trust Fountain

Keeping the world's businesses afloat
As a business and professional services provider, you equip companies around the globe with the highest caliber workers who lend their expertise to complete services and projects. From office administrators to security staff to call center agents, organizations rely on you to keep their businesses up and running.
To maintain a healthy stream of staff as your customers' needs ebb and flow, you need a simple and fast solution to fulfill hiring needs at the ready. The flexibility and nimbleness of Fountain can help you hire the high volume of staff you need as well as qualified workers your customers can depend on.
If you're hiring in business and professional services, you're facing:
A projected estimated value of $916.77 billion by 2026 for the business services industry
Projected growth to $7.06 trillion by 2025 for the the total available market (TAM)
An average monthly growth of 34,000 jobs between September 2022 and February 2023, with additional increases in March 2023
On average, call center positions take an average of 25 days to hire. With Fountain, our customers can hire workers in 3 days.
88%
decrease in time-to-hire
Fountain features
Automation
Ramp up hiring when needs arise with quick activation of certain features.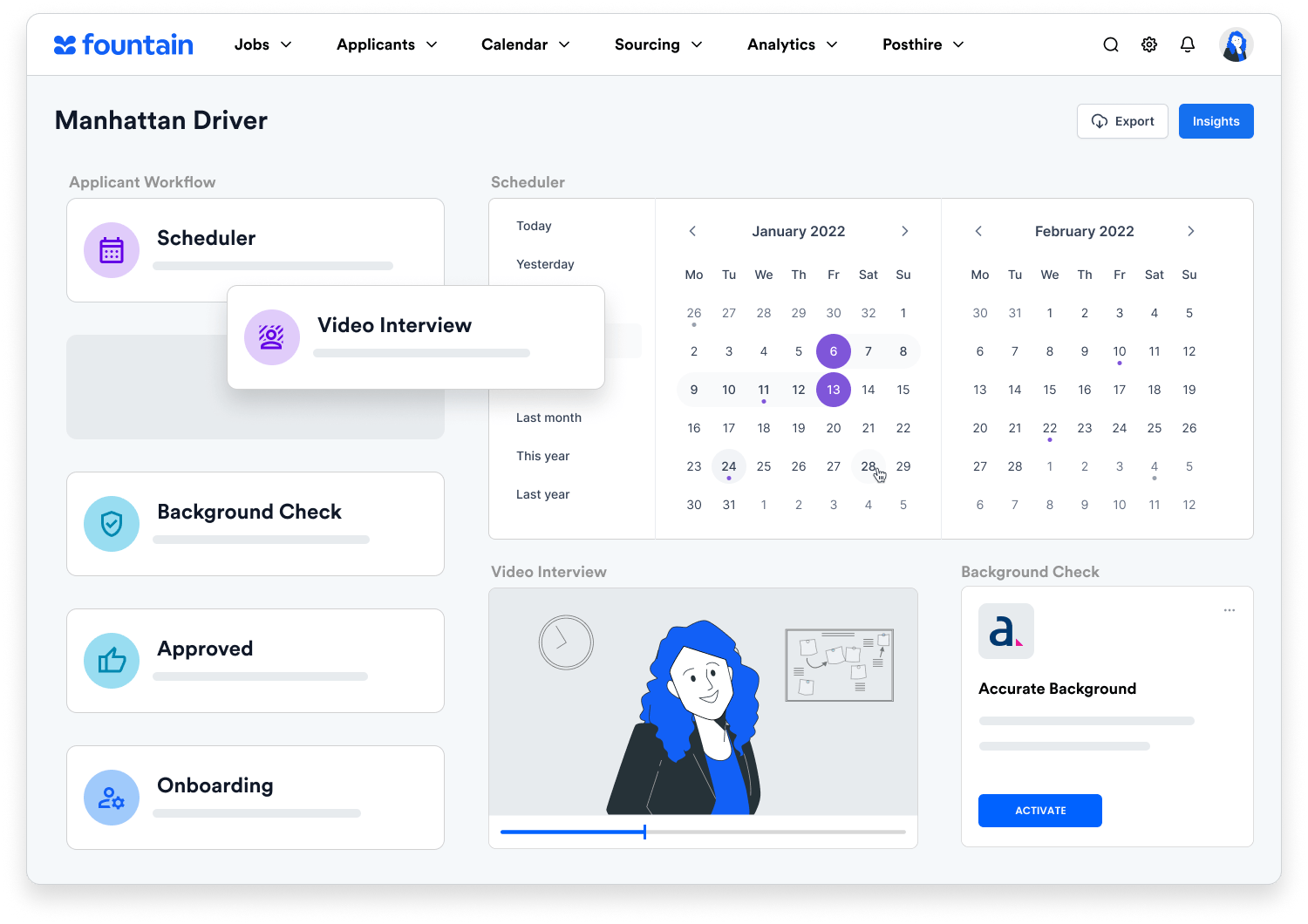 Customization
Whether you're hiring event staff or janitorial workers, Fountain's dynamic workflow editor lets you pick and choose the qualifications and stages in your funnel.
Visibility and data-driven insights
As your hiring needs changes, reflect on what works for different industries and geographies, and adjust your funnels accordingly.
Seamless recruiting
Applicants can apply from anywhere with Fountain's mobile-first platform. Text-to-Apply helps amplify awareness of job opportunities and collects applicant data for more efficient screening.
"We have the ability to customize Fountain to what we need. Not only is it already built to do high volume, but on top of that, we can continue to flex it in the way we need, to do what we need it to do."
Senior Vice President of Operations, LiveOps
48%
Decrease in time-to-fill
We'll take care of finding you candidates
Think of Fountain as an extension of your own talent acquisition team. From our user-friendly platform built with powerful automation to our attentive Customer Support specialists and sourcing experts, Fountain is here to simplify and streamline your hiring process.
Our partnerships with other Human Resource Information Systems and our integrations with platforms like Indeed are just a few of the proof points that make Fountain the trusted source for high volume hiring.
Get Started
Example professional services workflow
Liveops: Decreased time-to-fill by 48%
"We use Fountain's SMS feature for everything because the engagement is so high."
Learn More
Resources
Elevate your recruiting and hiring process with Fountain resources.